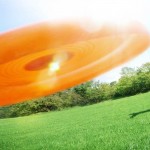 O spinning disc, O Wham-O's gift to all
The pure of heart, Great Frisbee! now do we
Rejoice in thy return, the vernal sign.
No more is campus snowy white, in thrall
To Jadis' temperamental atrophy.
Good spring! Good sun! Good weather! Feel we fine!
In harmony your circle's motion lends
The vibrance and perfection of the spheres
In ev'ry catch the grace of Venus, in each
Throw the furiosity of Mars;
And here in Tellus unserene extends
A line of friendship, spins a web of peers
In Ultimacy one. Some learn, some teach,
But reaching for the disc we grasp the stars.